Frank
Johnson
A digital & physical designer
based out of NYC & DC
making websites & furniture.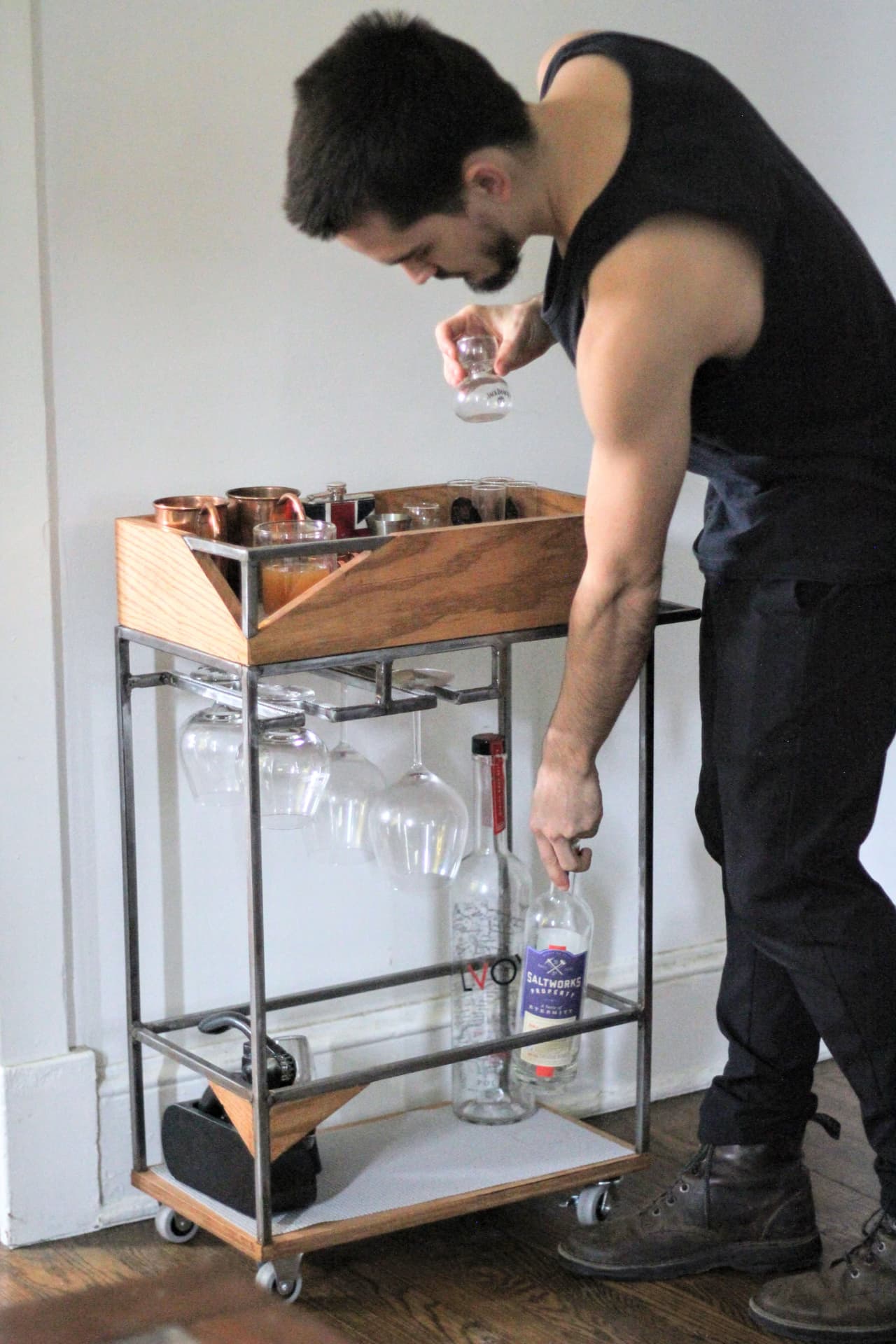 I build all kinds of things, and I try to make them delightful to use. Take this category picker below, which I built for a company history site:
It's fun to click, right? I try to put that spirit of disciplined simplicity and happy detail in everything I do, whether it's a user interface, a bar cart, or a brand.
I'm looking for new work in any design field right now, so please reach out or visit my Codepen to see more of my web work.
I've made some websites! Check out the list:
My Work
Iridium Satellite
Marketing Coordinator | August 2017 – August 2019
At Iridium Satellite I worked on every facet of marketing. I designed a rocket launch patch. I helped organize and manage the enterprise Wordpress CMS with 300+ products, 1700+ documents, and 1000+ users. I took all product photography, and led our Google Analytics and Data Studio reporting.
This team has supported all the growth of my young career and given me the chance to build my confidence as a professional. I couldn't be more grateful.
Iridium NEXT Launch VIII Patch

I designed the patch for the final launch of Iridium's new satellite constellation. It was wild to see my work on the SpaceX webcast and on t-shirts.

Iridium Certus Use Case Infographic

I did the art for a series of 8 infographics explaining the use cases of Iridium Certus broadband. I made a lot of custom icons for these graphics.

Event Photography

I usually take photos for any in-office events that we have in HQ, including the transition from our legacy network to our new one shown here.

Product Photography

I've been the in-house product photographer for Iridium since I was an intern in 2016. I've captured over 30 products from every angle, including hard-to-shoot ones like this harness.

Product Photography

To keep things interesting, sometimes I would take stylish shots of our products for our engineers to have as their screensavers and desktop backgrounds. This is the Iridium 9810.

Iridium NEXT Launch VIII Patch Process

This is a snapshot of the process I worked through to create the patch for launch VIII.
Ashé: An Artists Collective
Art & Business Adviser | January 2018 – Present
Ashé is a new organization dedicated to supporting dancers, founded by two fellow OSU alumni. I've helped them form the gameplan for the business as well as run a blog and an Instagram account. I make most of the feature art and merchandise designs, and I recently creating a series of ad videos with After Effects.
Call for Artists Instagram Videos

Play on Instagram

Simple little ads from Pinterest photos. Video made with After Effects, beat made with a Teenage Engineering PO-33.

Call for Artists Instagram Videos

Play on Instagram

These are from a set of six. It was a good test of working quickly during my nights to get the beats and videos together on time for this.

Blog Feature Art - "Global Artists/Global Citizens"

Written by Kylee Smith, on the theme of artists denying responsibility to the current issues of society.

T-Shirt Design

I got to create and commission these shirts to be made as our first product for sale.

Blog Feature Art - "Come Home"

Written by Kylee Smith, on bringing home along with your body.

Blog Feature Art - "The Graceful Protest of Arthur Mitchell"

Written by me, on the radical confidence of NYCB's first black principal dancer.

Blog Feature Art - "for i shall not be moved"

Written by Kylee Smith, on the legacy of black women in art.

Blog Feature Art - Placeholder

This shows all the background work I've done for Ashé, including making placeholder art for features we didn't have time to hand craft.
Furniture Designs
Gifts & Commissions | June 2017 – Present
I've been making furniture occasionally over the last three years. It's been a really rewarding creative outlet, being able to make useful things for myself and my loved ones. It's also been a way to learn new skills from my friends and family.
I do take commissions if you are interested in me building you a piece in the eastern half of the US.
Sunday Desk, 2017

Play on Instagram

I built this desk in a fit of creativity one Sunday. I made a quick mood video on it for Instagram.

A Plaque for Josh, 2019

Play on Instagram

This was my first commission, a Valentine's Day gift my coworker gave to her husband. It was also my first full project using the MPCNC machine I built.

Kasimir Bar Cart, 2018

I made this bar cart out of steel and plywood as a birthday gift for my best friend.

First Chair, 2017

I used this project to learn welding from my good friend Devin after I graduated college.

Folding Chair Clone, 2017

I copied a folding chair I had borrowed from a friend because I had to give it back soon. My mom retaught me some sewing too.

Rough Oak Table, 2017

My first piece of furniture, just rough cut oak boards. I really didn't understand joinery when I made this.

Skate Rail, 2017

Play on Instagram

This was a quick welding project out of scrap from my stepdad's metal shop. I made a music video of my making experience for Instagram.

Emily Cajon, 2018

I made this cajon drum as a gift for my partner's birthday. It was a tutorial build but I'm pround of how well its snare mechanism works.

Emily Cajon, 2018 - Snare Adjuster

This is a detail of my 3D-printed snare adjustment mechanism of the cajon drum.
Family Christmas Posters
Gifts for Nieces & Nephews | December 2018
I made these posters for my nieces and nephews because though I don't get to see my nieces and nephews as much as I would like, I wanted them to know how much I think about and love them.
I tried to capture some element of their personality that they might not recognize in themselves and give it an image, with the hope that they could maybe see it someday and be proud of themselves. I made them all with Adobe Illustrator and printed them on 11 x 17 poster prints.
Gabi

Gabi's poster celebrates her incredible kindness and humility while trying to show her how magical she really is.

Joel

Joel is a trader and negotiator and his pet dog lost her eye due to a medical issue, so I made them cyborg ruffians.

Jada

Jada has been through a lot, and even through that she is bright and bold. Magical poppies represent that joy through sadness.

Terrelle

Terrelle is ornary and intelligent. He's very young, but is sure to have great big things ahead of him.

Niqueli

Niqueli is a creative and bright girl, who doesn't seem like she'll take the rules of the world as they're given to her.